To understand coastal waves, erosion and wave breaking, Stokes drift and wind waves, tides and much more, nothing is better than heading offshore on a plane able to fly at low altitude. You then will understand how waves form, how they "travel" over hundreds of miles for some, eventually, to come and crash on Inishmaan, right where our research station is based. But flying above the sea is always a serious risk and making sure you have the right plane and crew on board is definitely a wise decision.
Today I was fortunate enough to head out to sea with a maritime patrol led by Pilot Officers Barry and Ronan of 101 Squadron of the Irish Air Corps on a Casa CN235 medium-range twin turbo-prop Maritime Patrol Aircraft. As Senior Research Engineer for UCD, my duties include maritime expertise and providing best practices for the future of our sea-going scientific experiments, from a technical point of view but also compliance and safety-wise. Today my role onboard CN 235 call sign Charlie 253 was two-fold: observing waves to plan better instrumentation for our scientific projects, and devising a plan for a new Highwave research project that cannot be disclosed yet!
And so my day started bright and early as I woke up at 04:00 hrs to head to Baldonnel Aerodrome (from Connemara). After a briefing with the crew and gearing up, we headed to the hangar. It was my first encounter with the CN 235 Maritime Patrol aircraft - I mean up close and personal… In the past, when I worked closely with the Irish Naval Service, the 101 squadron was always at a distance, although never really far away.
Since 1994, the Irish Air Corps has operated two Casa CN 235 aircraft, conducting maritime patrol, aeromedical, search and rescue and normal transport tasks. Typically, they are crewed by a pilot, a co-pilot, and personnel at the back, including radar/electronics and cargo hold operators. And yes, in case you are wondering, CN235 can airdrop rafts and personnel when required. A lot of what I heard today made sense based on all the years I have spent working in the maritime world and, although I will not talk here about AIS or thermal cameras, a lot of this equipment could be used for environmental studies, including waves…
Working in close conjunction with the Naval Service, the two Casa CN 235 Maritime Patrol Aircraft of 101 Squadron provide an aerial platform for patrolling
the Irish Economic Zone, an area of approximately 132,000 square miles. Today was no different: on one tack after another, we looked at vessels of all shapes and sizes operating in Irish waters. What people often misconceive about Ireland is that it is not a small country. If you were to fly for two hours eastward of Ireland you probably would end up flying over Germany, but if you fly for two hours west of Ireland, you are still flying over Ireland. We also did a small detour to the Highwave Mobile Research Station (MRS) based in Formna on the island of Inishmaan. It is not without a certain pride, I have to say, that I talked to Barry, Ronan, and the lads at the back about our project, the instrumentation, our team of researchers and the local community who have welcomed us in such a great manner. We did two circular passes at a low altitude above the island. Pat, the Air Corps photographer in residence, took nice photos of our station and the cliffs of Inishmaan. Later after we landed, I found several messages on my mobile from local friends.
We had all kinds of weather today, from dense fog to rain to blue sky. It's like having the four seasons in one hour and starting all over again. Have you ever asked yourself what a blind person feels when holding your arm as he trusts you to help him cross the road safely? Flying in thick fog can be daunting if you are not used to trusting the instruments onboard. I have spent countless of hours of watch at sea, on the bridge, in a pitch dark night with no stars, relying mostly on my instruments. Flying in the fog today, seated in the cockpit, was a new learning experience for me. I was this blind person gripping your arm. A great lesson in humility as well, as you have to trust the two men in front of you.
I
t was a long flight, almost five hours from the time we took off (approx 10:20 hrs) to the time we returned. The CASA 235 has an endurance of around 7 to 8 hours when cruising at 180 knots. I was surprised by how little fuel she burns when she is properly handled. I loved Barry's analogy as I looked at the fuel gauges: "It's like a car. If you step on it, you will burn more…"
It's been a while since I had to wear a survival kit offshore and it's amazing how rapidly the survival at sea training kicks in when you are flying (way) less than 300 ft above the surface of a sea that you know can be very agitated. Any person who spends time on the water should complete a basic STCW course. It is compulsory for mariners and I have to undertake this training every five years if I want to keep going to sea.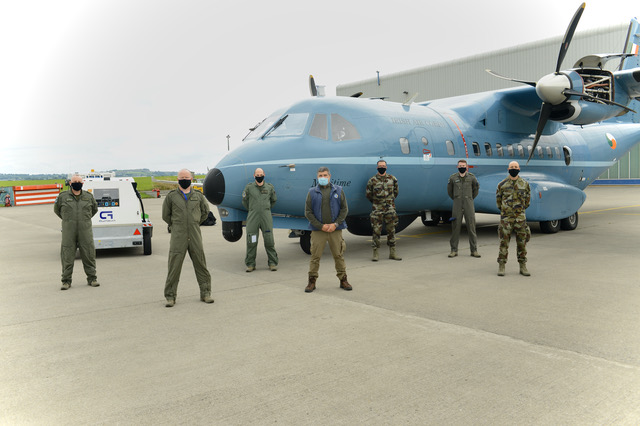 The learnings were important today, of scientific nature of course but also from a human point of view as well. I will definitely fly again with 101 Squadron as they are partners of the Highwave project and I was invited to come again. The next trip might involve understanding the cargo hall and ramp operation. At this point and on behalf of all our research team in UCD, I would like to express our gratefulness to the men and women at state level who facilitate at all levels the collaboration between civilians and military as we definitely have a lot to share.