By:

Arnaud Disant

Hits: 970
This is now exactly two years since I started surveying the Aran Islands with my backpack in a desperate search for a place to build a scientific mobile research station. Highwave is not a conventional research project with a few sensors deployed and swiftly recovered to retrieve a set of data that a group of scientific can digest it over a decade. It's a long term research project with real time cloud data of all kind and countless hours of supercomputer calculation bolted to the edge of a cliff... Two years and a pandemic later, there are several ways to look into Highwave
Read more: Two years and a pandemic later... go raibh maith agat Inis Méain
By:

Tatjana Kokina

Hits: 1094
With the pandemic restrictions finally being eased, it was possible to arrange a field trip for a few team members. Claire and Tatjana have joined Arnaud on the island on 13 and 14 May to work on the new weather station.
By:

Tatjana Kokina

Hits: 981
The Mobile Research Station (MRS) arrived on Inis Meaín at the end of August 2020. Today, the interior of the station has a working space, power outlet, and heating. For the time being, the power comes from two sources: solar panels and a generator. The wind turbine has been delivered and will be installed shortly. The mast on top of the MRS, which has lightning protection, hosts the antenna that was installed recently.
This Friday we did some preliminary tests using another antenna located 18 kilometres away! With help from Marine Engineer Michèal O`Conghaile who is now well used to work with our Sr Research Engineer, it was possible to survey the area, we examined the existing radio link to avoid interferences in the future.
In a few weeks our very own private encrypted microwave radio link to the mainland will provide the necessary connection between the research pods, the MRS, Basecamp, and finally make its way to the drive, where it will be accessible by everyone working on the project.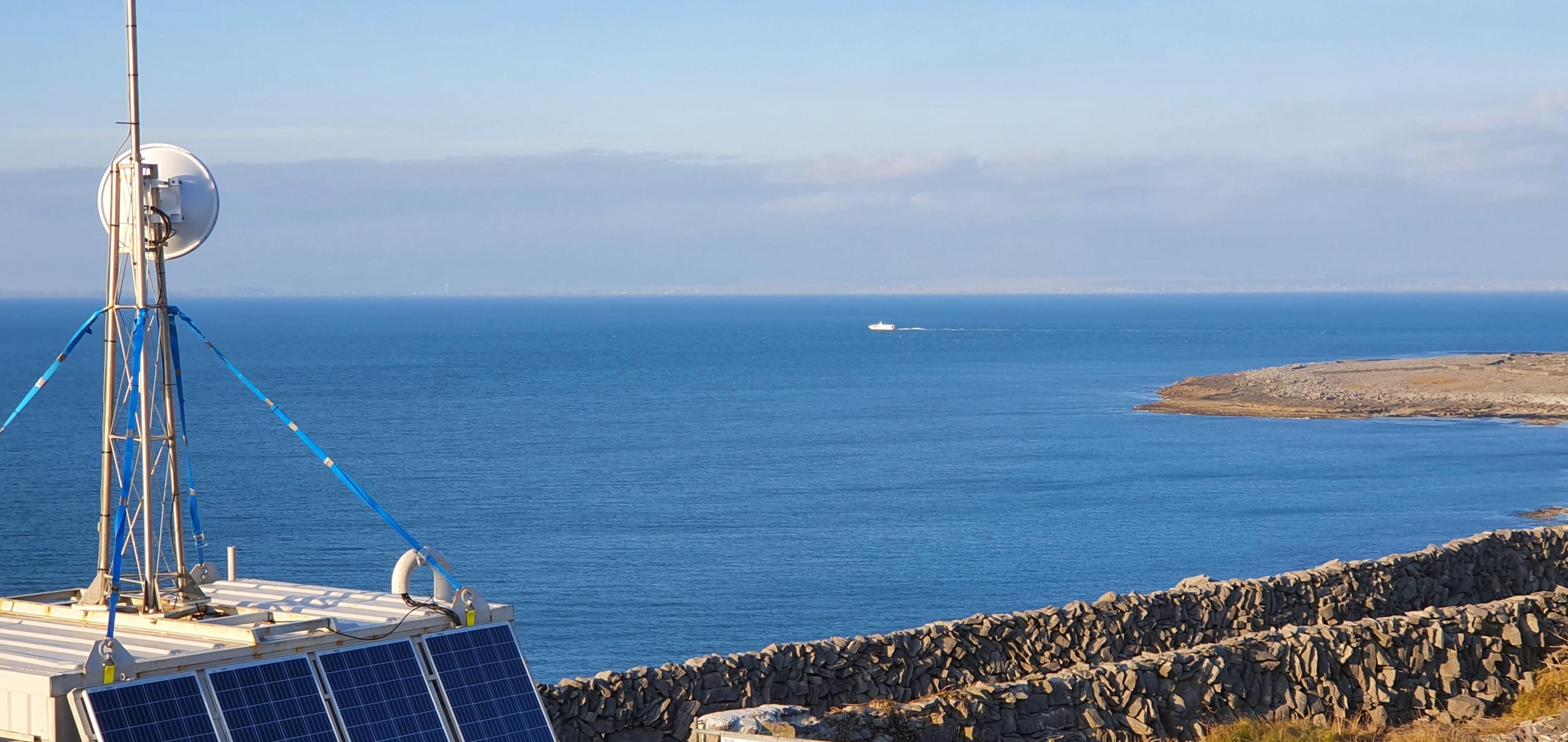 Read more: Link to mainland and maintenance of the mobile research unit
By:

Tatjana Kokina

Hits: 785